I bought this chair at a barn sale for $3.00
The wood looked worn and the fabric was an outdated vinyl. I decided to change it to make it look new again. I started by reupholstering the seat and back.
It looked better already! But it needed something more. So I went and bought some Cabot interior wood stain in brown mahogany and updated the wood. First, I sanded it just a bit with fine sand paper.
Then, I just reattached the seat and back. It took only two days and it looks so much better in my dining room!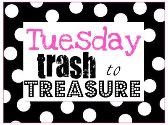 Thanks for hosting!